When children are first learning to read and write, it takes a great deal of effort for them to recognize and sound out words. As they read words and phrases aloud, what they read may sound fragmented as if they are reading lists of words rather than sentences, paragraphs, or stories. As their vocabulary increases and many words become familiar, words flow more easily and the process of reading and writing becomes smoother and more natural. This increased fluency comes about as the result of repeated opportunities to read and re-read favorite items, to read to and with other people, and to participate in plays or other forms of dramatic reading.  The more children participate in reading the greater their ability and capacity to read. 
The more you read, the more things you will know. The more that you learn, the more places you'll go. (Dr. Seuss)
More fluent readers focus their attention on making connections among the ideas in a text, and between the ideas they read and their own experiences.  These connections make it possible for children to comprehend or understand what they are reading. Children continue to learn from repeated readings.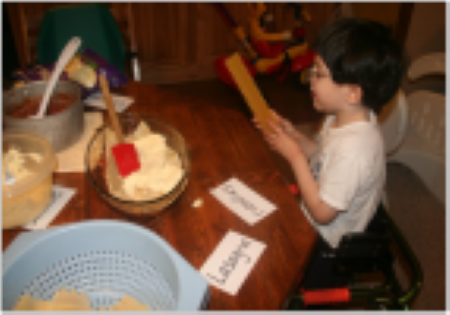 Children with combined vision and hearing loss need the same opportunities to read and re-read familiar items even though they may not be reading conventional text. Finding time and designing activities that provide meaningful interactions and experiences to move a child's literacy skills beyond beginning levels is challenging.  This is essential if children are to become confident and independent readers.