Recommendation 2: Work Experiences
Advocate for work experiences that are individualized to students' strengths and support needs, evolve throughout their school careers, and include paid employment in the community before leaving high school.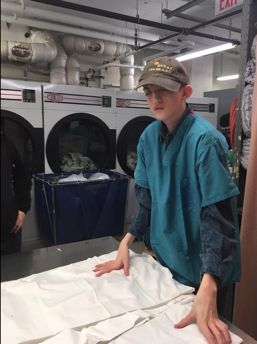 Why This Is Important
It is well known that paid work during high school is positively correlated with paid work in the community after high school for students with disabilities (Carter, et al., 2012). In fact, the Advisory Committee on Increasing Competitive Integrated Employment for Individuals with Disabilities (2016) recommends that work experiences occur throughout high school and include paid competitive integrated employment (CIE). In order to be considered CIE, it should occur alongside coworkers without disabilities, pay prevailing or minimum wage, and provide the same benefits and opportunities for advancement as anyone else in that position would receive. Read David's Journey, for an example highlighting one young man's success story.
Although individuals with deaf-blindness and additional disabilities can work in the community when strategies such as customized employment are used (Condon & Callahan, 2008; Greenfield, 2008), most are not employed after high school (Petroff & Panscofar, 2018). Students with deaf-blindness are not getting access to job sampling, summer internships, or jobs as part of their transition services. In a recent study, 43% of high-school-aged students with deaf-blindness and intellectual disabilities were not enrolled in any type of vocational education (Petroff & Panscofar, 2018). 
What State Deaf-Blind Projects Can Do
1. Assess your state's readiness to support community employment for students with deaf-blindness and additional disabilities.
Learn about Employment First and find out if your state has an Employment First Policy. Most states have some sort of Employment First effort, but they vary widely in how they impact people with disabilities. 
Resources:
2. Identify efforts to educate special education staff about transition activities that lead to community employment.
Professional development opportunities for special education teachers may take place at conferences or transition events, be included as part of teacher training requirements, or be offered by transition-focused agencies and organizations or University Centers for Excellence in Developmental Disabilities Education, Research, and Service (UCEDDs). Collaborate with these entities to include information about students with deaf-blindness and additional disabilities. Key topics include:
Transition planning
Individualized work experiences
Employment preparation for students with significant disabilities
Customized employment and the process of discovery
State initiatives addressing barriers to transportation
3. Learn about advocacy and capacity-building efforts in your state to improve transition services and outcomes for students. Join these efforts!
Look for existing adult services efforts in your state in which your project can participate:
Is your state's development disabilities council actively addressing transition and collaborating with schools?  
Who in your state (e.g., VR services, state department of education) is providing information about the impact of WIOA on students?  
Who is providing information about the Integration Mandate of the ADA?  
Who is providing information about the Center for Medicare and Medicaid's Final Settings Rule, which establishes requirements for the quality of settings that are eligible for reimbursement for Medicaid home and community-based services?
What advocacy efforts are your protection and advocacy agency or parent center engaged in?
How is WIOA money being spent? What opportunities are available to implement services for students?
Represent students with deaf-blindness and additional disabilities in these advocacy efforts and support families to join in. If the efforts include information dissemination, training, and demonstration projects, make sure details about and contact information for your state deaf-blind project are included.
Resource:
Promising Examples
Minnesota Vocational Rehabilitation Services
WIOA 511 regulations ensure that:
Individuals with disabilities, especially youth with disabilities, have a meaningful opportunity to prepare for, obtain, maintain, advance in, or regain competitive integrated employment, including supported or customized employment. Simply put, these new requirements . . . should be used to divert young people from subminimum wage employment (typically in sheltered workshops) into competitive integrated employment (Association of People Supporting Employment First, 2016).
Minnesota VR Services is going above and beyond these requirements. A VR counselor assigned to each high school provides career counseling and information about competitive integrated employment (CIE) to all young people at risk of segregation. When counselors become aware that a student's planned post-school outcome is a sheltered workshop or day habilitation program, they meet with the student and family to discuss CIE and customized employment. They explain the philosophy that all people with disabilities are ready to work in the community and provide examples of how this can be achieved. Counselors have reported that when provided with information about community work opportunities, most students and families have chosen to pursue community rather than sheltered employment.
Delaware's Early Start to Supported Employment
Delaware passed Employment First legislation in 2012. As part of its emphasis on prioritizing community employment as the preferred day service for adults with developmental disabilities, the state created the Early Start to Supported Employment, a collaborative program sponsored by the Delaware Division of Vocational Rehabilitation, the Delaware Division of Developmental Disabilities (DD) Services, the Delaware Department of Education, and local school districts. During the last two years of high school, students with developmental disabilities who have a long-range goal of employment receive vocational assessments, are connected to community rehabilitation programs, participate in work experiences, and ideally are placed into a job before graduation. DD staff reach out to students as young as 12 who are likely to need long-term support to work in the community.
Pennsylvania Department of Education
The Pennsylvania Department of Education funds the Arc of Pennsylvania to provide discovery and other customized employment services to students whose disability is a significant barrier to employment and who require customized strategies to access competitive integrated employment. As part of this program, the Arc works collaboratively with the Pennsylvania Deaf-Blind Project, using discovery to gain an understanding of a student's skills and motivations, and the conditions necessary for them to work in the community.