Young children who have normal vision and hearing are regularly exposed to print and words through daily activities. They listen to stories, rhymes, and songs and frequently observe others reading and writing.  These children are poised and ready to develop literacy skills. They rapidly develop language and social skills and quickly absorb information about how the world works (e.g. objects exist and have permanence and things have names, characteristics, and purposes). By observing and imitating the people around them and by participating in everyday activities, they easily acquire the foundations of literacy. They attach meaning to letters, recognize their own names, find familiar words in picture books, and play simple word games. They enjoy learning about the sounds letters make, how they fit together to make words and may begin to use familiar words to form sentences. They delight in hearing favorite stories and creating their own.
In addition to 'can-do,' reading is much more fun - for you and your child - if she also develops a 'want to' attitude. (Trelease, 2006)
Because children with combined vision and hearing loss have absent or decreased access to everyday activities, they typically lack opportunities for incidental learning. As a result, they have a much more difficult time participating in the wide and varied literacy activities experienced by children with normal vision and hearing. Instead, children with vision and hearing loss depend on their parents, teachers, and caregivers to find new ways to offer interesting and meaningful literacy experiences. This begins when the adults in their lives believe that every child can learn to "read" and "write," and hold the expectation that they will, even though for some children it may look different than what we usually think of as traditional reading and writing.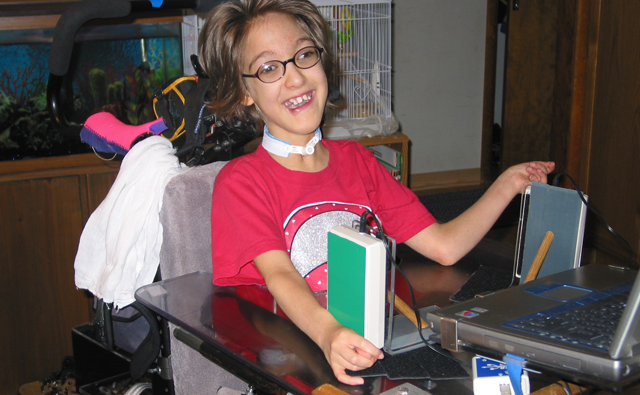 Children who are deaf-blind need books and writing materials that are adapted to their unique vision, hearing, and physical needs. They also require learning activities that connect objects, pictures, letters, and words to what they already know and understand. Special attention should be paid to identifying a child's current level of knowledge about his or her life and experiences and to providing learning experiences that expand these concepts.  This requires in-depth knowledge of how each child takes in information and communicates with others, as well as predictable and consistent interactions with the child that help him or her process new information.
Activities that promote literacy learning are directly linked to activities that promote communication, interactions with others, and concept development.  Avoid teaching literacy skills in isolation and instead find creative ways to teach literacy in the context of what makes sense to a particular child.