---
Every Friday NCDB posts a Family Fun Fact on Facebook and Twitter. These stories, photos, and videos celebrate families of children who are deaf-blind and provide tips and ideas that might be useful to other families. They are gathered and provided to us by Family Engagement Coordinators from state deaf-blind projects across the country. Below is our archive of Fun Facts organized by state. 
To see our new posts each week, follow NCDB on Facebook and Twitter!
This page is under construction. Older family fun facts are still being loaded. 
Check back soon!
Arizona
February 22, 2019
Meet Kim Lauger, the CHARGE Syndrome Foundation's Family Liaison for Arizona. It looks like her family has lots of fun spending time together all about town. If you are wondering if you have a CHARGE Liaison in your state, go here: https://www.chargesyndrome.org/for-families/get-support/. They would love to connect with you! 
April 13, 2018
Mayzie's celebrated her 5th birthday with her classmates (who all experience vision impairment and several experience DeafBlindness) by bringing a company to her class that allows the child to personalize a stuffed animal. They chose which animal they wanted, worked the machine to put the stuffing inside, and chose either a scent or sound to go inside. It was so much fun and we loved seeing each child's personality come through in their choices!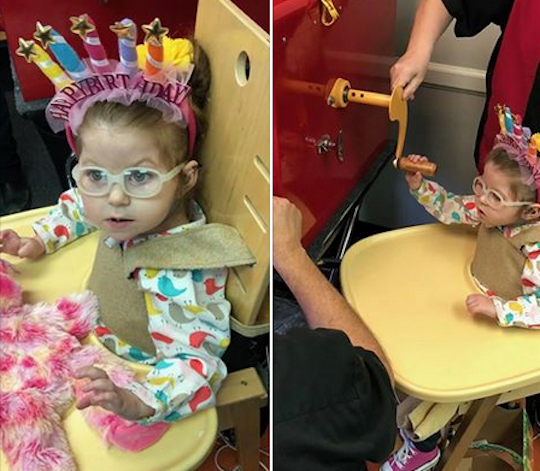 April 29, 2016
A family in Arizona recently ran a 5k. When they got to the finish line, they took Soliz and Camila out of their running strollers and they walked across the finish line in their walkers. This was a great way to build self-esteem as the crowd was cheering for them as they walked across and completed this awesome goal!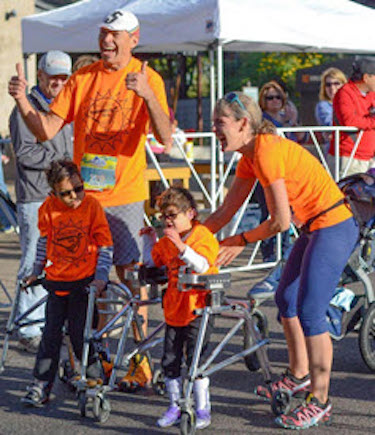 April 22, 2016
Camila has a very special bond with her Grandma Jojo. They swim together whenever they can. In this particular photo Camila is completely relaxed as the water helps bring her out of gravity. There are other times she is very active in the water and able to work on skills like holding onto a soft toy, something that is difficult for her to do on land. She also loves holding her breath and going under the water!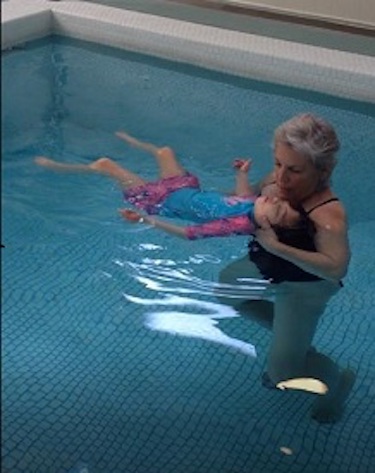 April 15, 2016
Soliz and Camila love being outdoors! We try and go hiking and camping with them as much as possible. They can't walk independently yet, but Soliz was able to hike down the hill with assistance. They love sitting in the dirt and enjoying the fresh air with their doggie companion, Sammy. And the hike back to the car was full of proprioceptive input. They love it!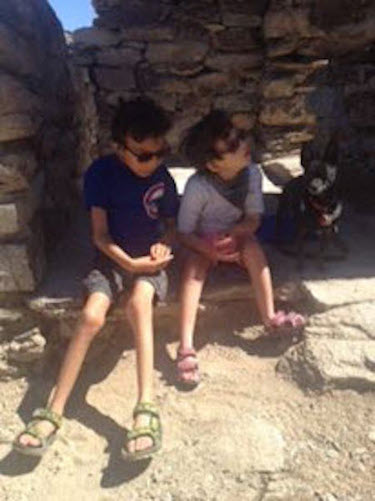 Arkansas
February 22, 2019 
Meet Casey Adams, the CHARGE Syndrome Foundation's Family Liaison for Arkansas. Looks like she and her family have lots of fun spending time together in the great outdoors. Maybe just not right now in the cold of the winter! If you are wondering if you have a CHARGE Liaison in your state, go here: https://www.chargesyndrome.org/for-families/get-support/. They would love to connect with you!
California
April 28, 2017
Valerie, who is deaf-blind, has fun exploring outdoors with her family.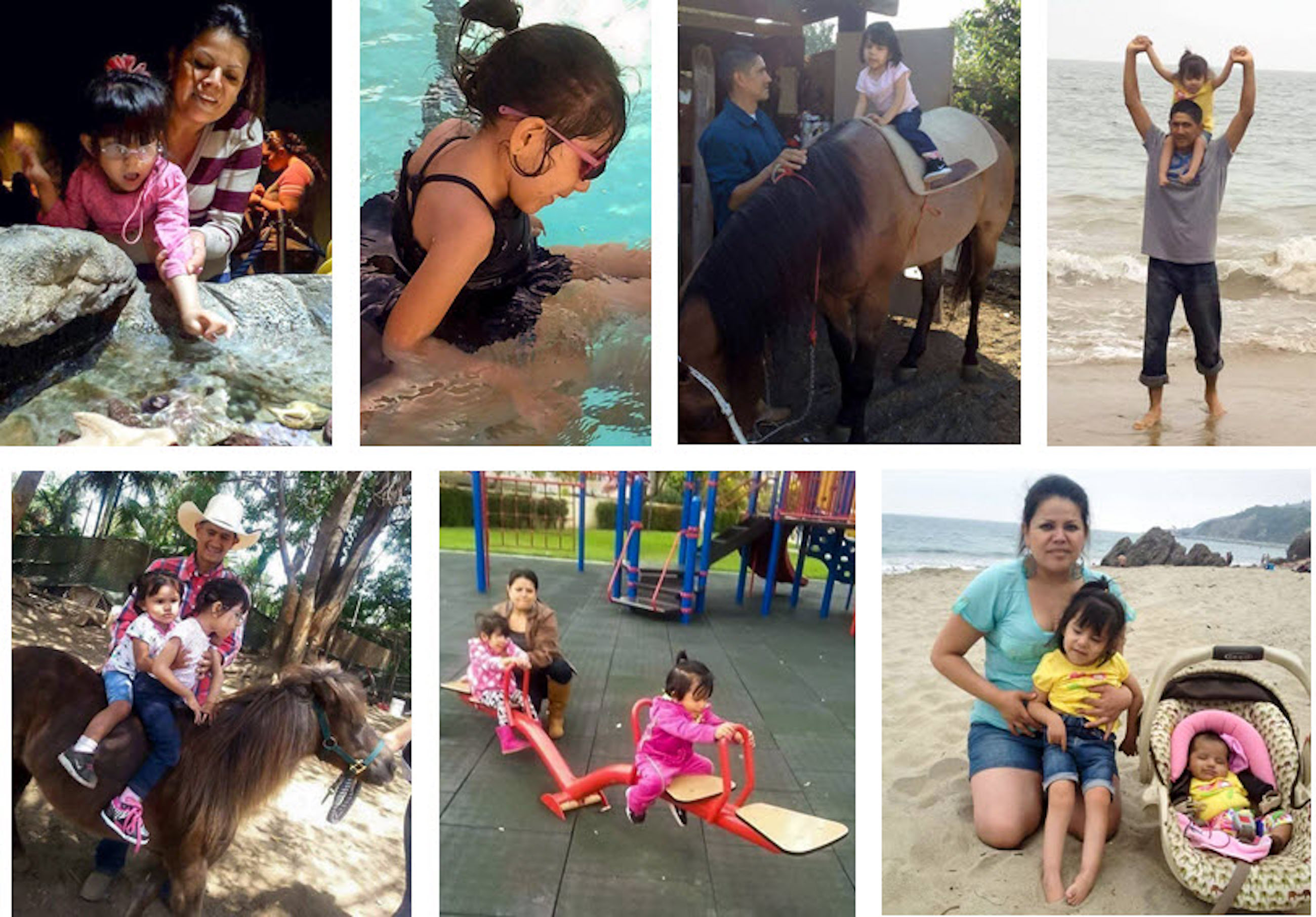 Florida
June 28, 2019 
We are the Eder family. Berniece Ann is 11 years old. She is diagnosed with Pyruvate Dehydrogenase Deficiency, including, DeafBlindness. These pictures were taken at the Annual Disability conference in Orlando FL.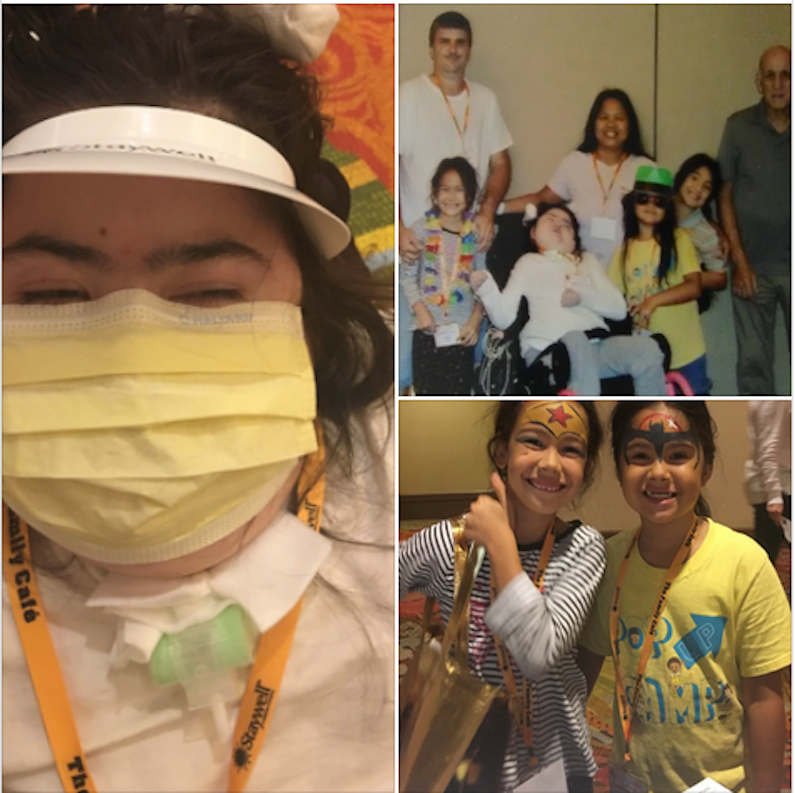 Georgia
July 7, 2017
Ivey's mom, Gwen, writes: "In the spirit of summer traveling and vacations, I would like to share how Ivey entertains herself while traveling in the car. Whether we are taxiing Ivey's brothers to practice, running an errand, or driving to the beach, this keeps Ivey entertained and engaged. I found a storage container that provides the perfect OT footrest and stores Ivey's extra medical supplies that may be needed while traveling, yet cannot be found in Walmart. I hung a car clothes bar across the backseat, added sensory items, and voila, Ivey's very own "little room," automotive style. This has been our saving grace in the many hours spent in my car traveling across town, to doctors, and especially on long trips. Oh, and if you want to spice things up, use Velcro to attach a musical toy or a switch to the lid of the container and let their little feet play."