Deafblindness is a rare condition in which an individual has combined hearing and vision loss, thus limiting access to both auditory and visual information.
This page provides an overview and links to additional resources on the following aspects of deafblindness for children and youth:
For a quick look at what deafblindness is, how many children are affected, and how children who are deafblind learn and communicate, see
Excerpted from Overview on Deaf-Blindness by Barbara Miles
It may seem that deaf-blindness refers to a total inability to see or hear. However, in reality deaf-blindness is a condition in which the combination of hearing and visual losses in children and youth cause "such severe communication and other developmental and educational needs that they cannot be accommodated in special education programs solely for children with deafness or children with blindness" [34 CFR 300.8(c)(2)] or multiple disabilities. Children who are called deaf-blind are singled out educationally because impairments of sight and hearing require thoughtful and unique educational approaches in order to ensure that children with this disability have the opportunity to reach their full potential.
A person who is deaf-blind has a unique experience of the world. For people who can see and hear, the world extends outward as far as his or her eyes and ears can reach. For the young child who is deaf-blind, the world is initially much narrower. If the child is profoundly deaf and totally blind, his or her experience of the world extends only as far as the fingertips can reach. Such children are effectively alone if no one is touching them. Their concepts of the world depend upon what or whom they have had the opportunity to physically contact.
If a child who is deaf-blind has some usable vision and/or hearing, as many do, her or his world will be enlarged. Many children called deaf-blind have enough vision to be able to move about in their environments, recognize familiar people, see sign language at close distances, and perhaps read large print. Others have sufficient hearing to recognize familiar sounds, understand some speech, or develop speech themselves. The range of sensory impairments included in the term "deaf-blindness" is great.
We hope you enjoy the following profiles of eight children who are deafblind (be sure to click through all the slides!). Thanks to all the kids and families who shared their photos and stories.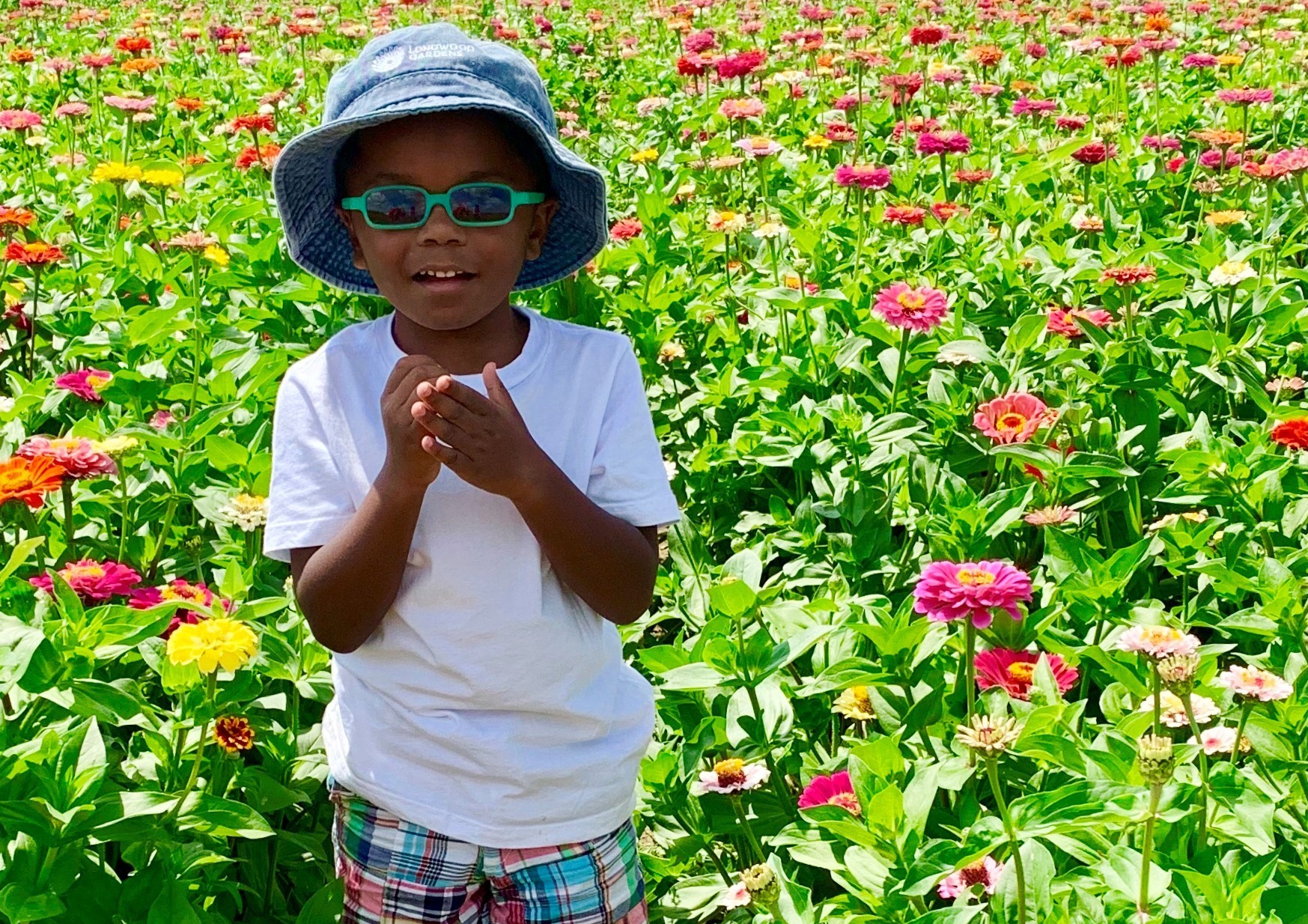 Kase Dominic
Kase Dominic is 5 years old. His deafblindness is due to polymircogyria bilateral frontal lobes. He communicates primarily using American Sign Language and pictures on an iPad. He goes to a preschool school for the Deaf and hard of hearing.
Kase joined his family as a foster baby when he was 4 days old and they adopted him when he was 2 1/2. He loves Sesame Street, books, and his family. Kase is one of kind—quirky, funny, loving, caring, determined, strong, and courageous. Sometimes uncooperative, but nothing less than perfection.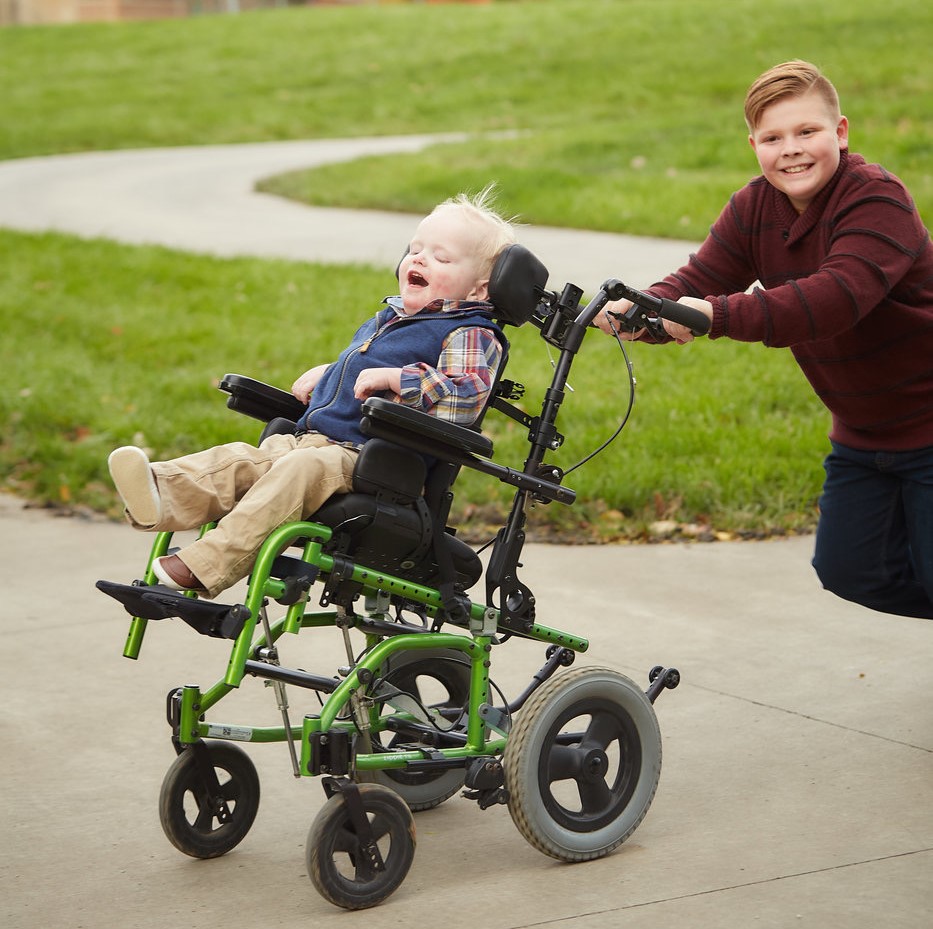 Miles
Miles is a happy four-year-old who loves to cuddle, swing, swim, and hang out with his big brother Liam. He is deafblind as a result of a rare, randomly occurring genetic mutation called CDKL5. In Miles, the condition has caused epilepsy, cortical visual impairment, cortical hearing impairment, low muscle tone, and physical and cognitive delays.
Miles' mom and dad find ways to adapt family and peer activities to engage his senses and make sure he is always included. Trips to the zoo are opportunities to experience different smells and sensations. At trampoline parks, he can use his wheelchair on the trampoline (with permission) as his family jumps beside him to provide vestibular input. It's great for Miles and makes family activities meaningful and fun.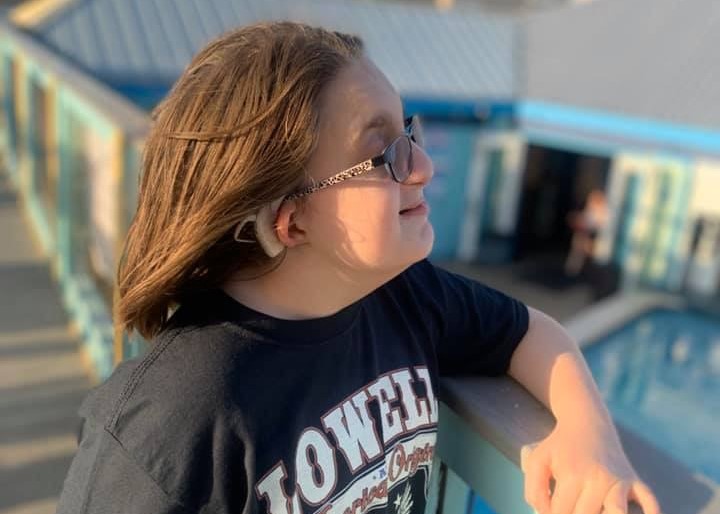 Laci
Laci, who is 13, has CHARGE syndrome. She lives in Texas with her mom and dad. Laci has a cochlear implant and communicates using spoken language. Her parents would love for her learn to sign in the future.
Laci's favorite hobbies are biking, exercising, swimming, hanging out with her cousin Abby, playing video games, Harry Potter, taking trips to the beach, and reading. She is proud to say she has had 30 surgeries and currently feels great!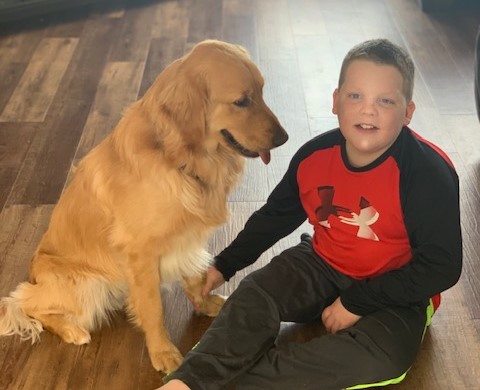 Liam
Liam is in the 5th grade. He was born with typical vision and hearing and became deafblind after getting sick with meningitis when he was 2 1/2. He is a braille reader and his first language is American Sign Language (ASL). He uses tactile ASL receptively.
Liam is a happy, social, and busy boy. You will always find him with a big smile on his face. He loves being around people, going to school, reading braille, and math. Some of his favorite activities are going for walks or swimming, and getting new braille books!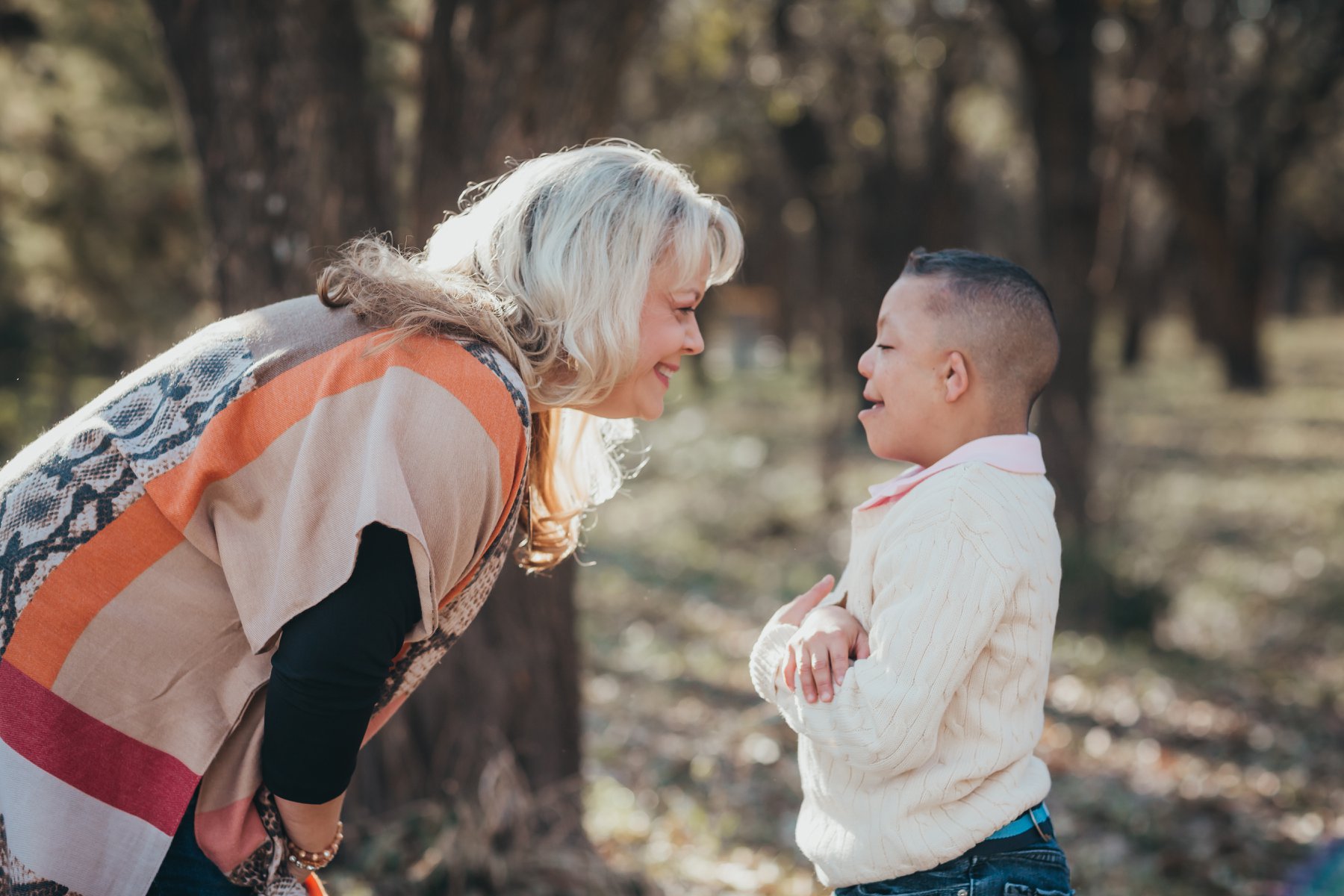 Devin
Devin is a 16-year-old high school sophomore. His deafblindness is due to Mosaic Trisomy 22. He is caring and loving and has a contagious smile that lights up a room. He is surrounded by family that includes cousins, aunts, uncles, grandparents, and his mom!
Devin loves to be outside riding his AMBUCS bike or playing baseball, hanging out with his peers at school and home, and socializing and talking to other people (he uses sign language to communicate). He is very chatty! One day each week, he goes to the Sedgwick County Zoo where he works by cleaning statues and assisting with other tasks (and socializing!).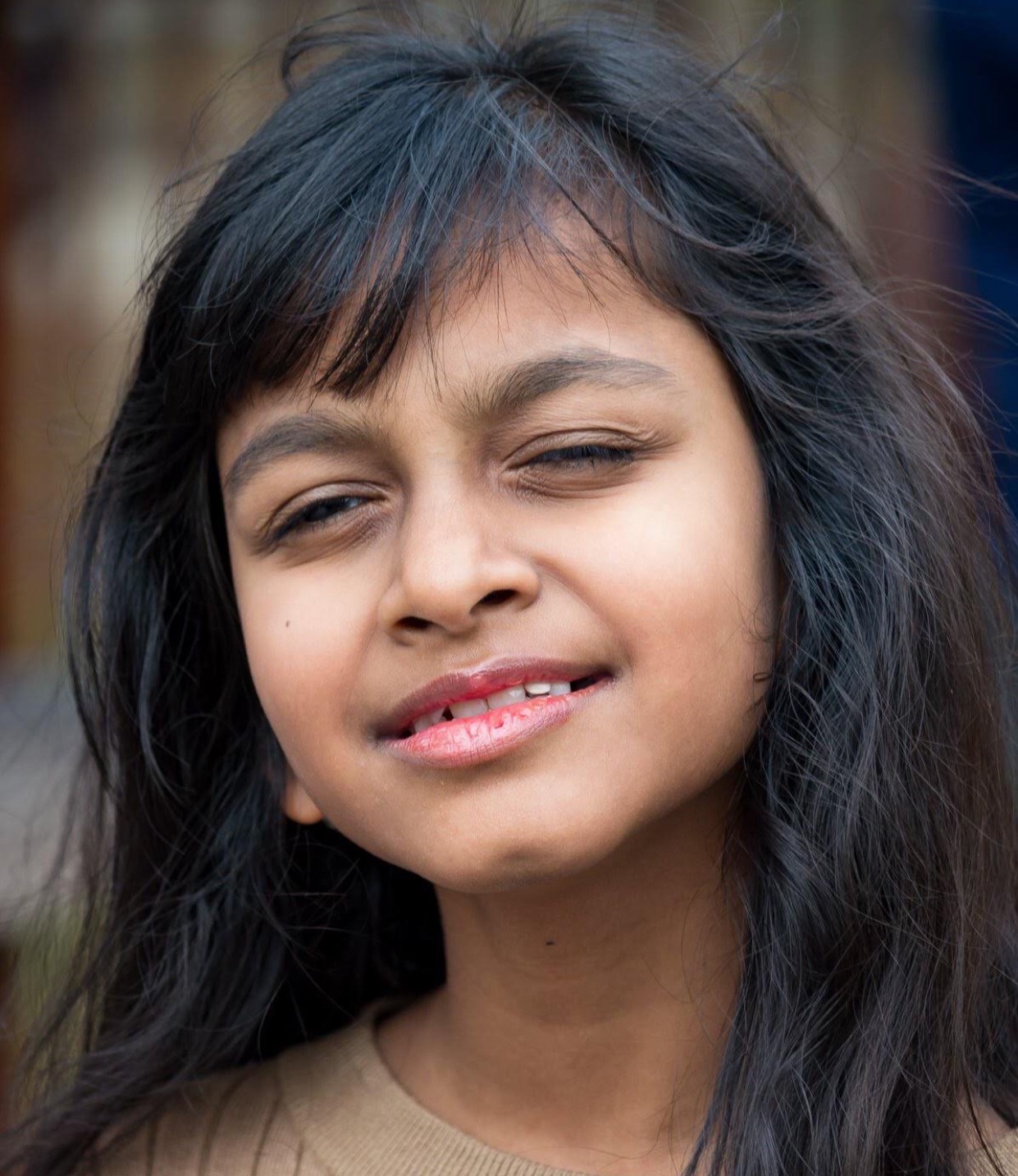 Krishangi
Krishangi, who lives in Texas, is 10 years old and in the 4th grade. She has Usher Syndrome Type 3B.
When you see this bubbly social butterfly, you will not know that the girly girl who loves singing, dancing, playing with her dolls, and mommy's makeup aspires to meet Malala one day and work alongside her to promote education for each and every girl in this world. She believes she can achieve whatever she works hard for and isn't scared of challenges. Her hero is her brother Aryan. She gives world's best hugs and loves making everyone laugh and feel happy.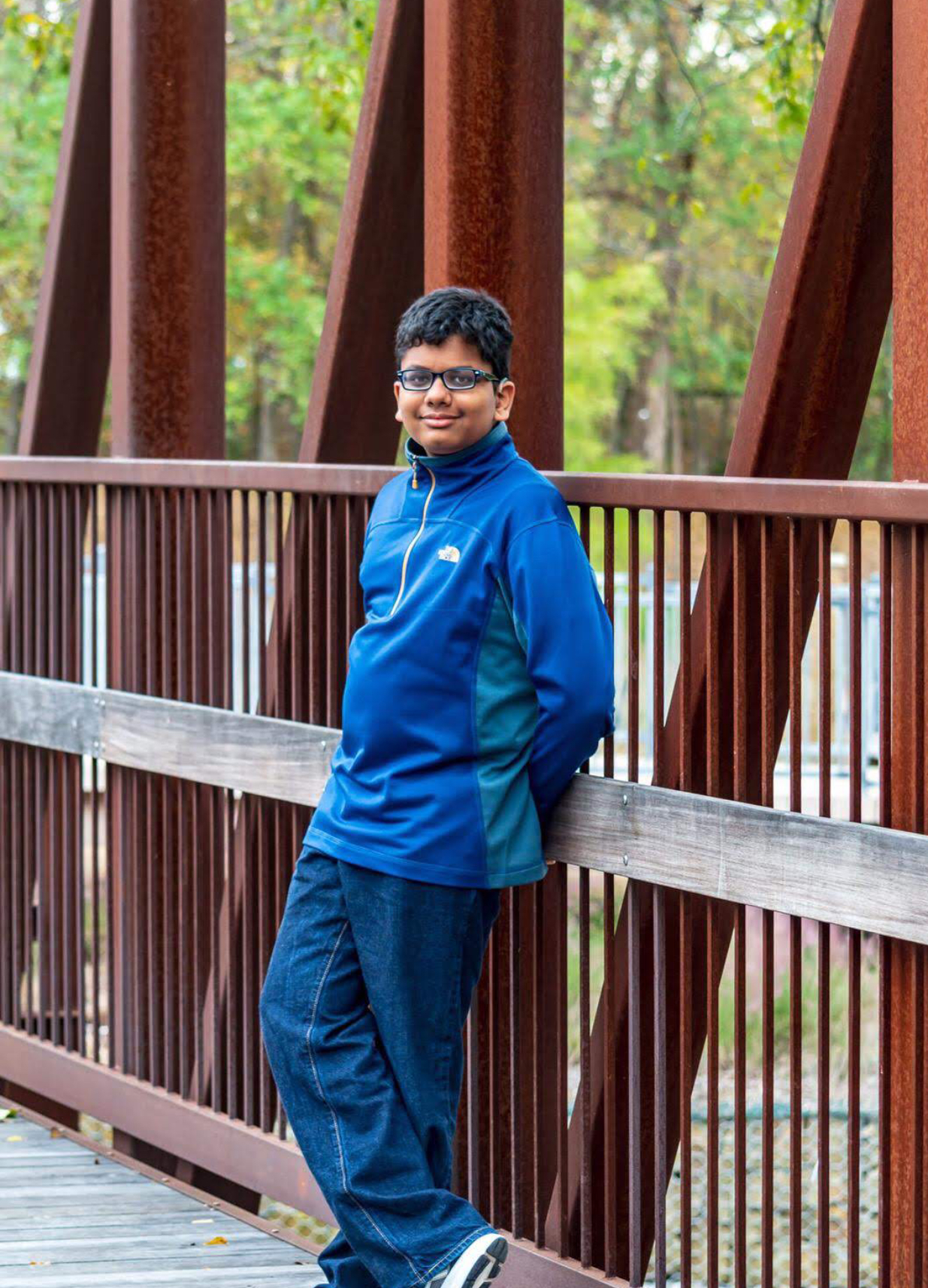 Aryan
Aryan, who lives in Texas, is 14 years old and in the 8th grade. He has Usher Syndrome Type 3B. He is a sweet, caring, kind soul who has always been the mature and responsible older brother to his younger sister Krishangi.
A sure way to become Aryan's friend is to engage him in trivia and ask his opinion on world events. He is a member of the National Junior Honor Society and the video and broadcasting team at his school. He wants to become a lawyer, advocate for the special needs community, and work towards making the world a better place. Aryan is obsessed with "Hamilton" and when he's not rapping Hamilton lyrics, reading, or irritating his sister, he is playing with Legos or video games, or learning to cook from mom.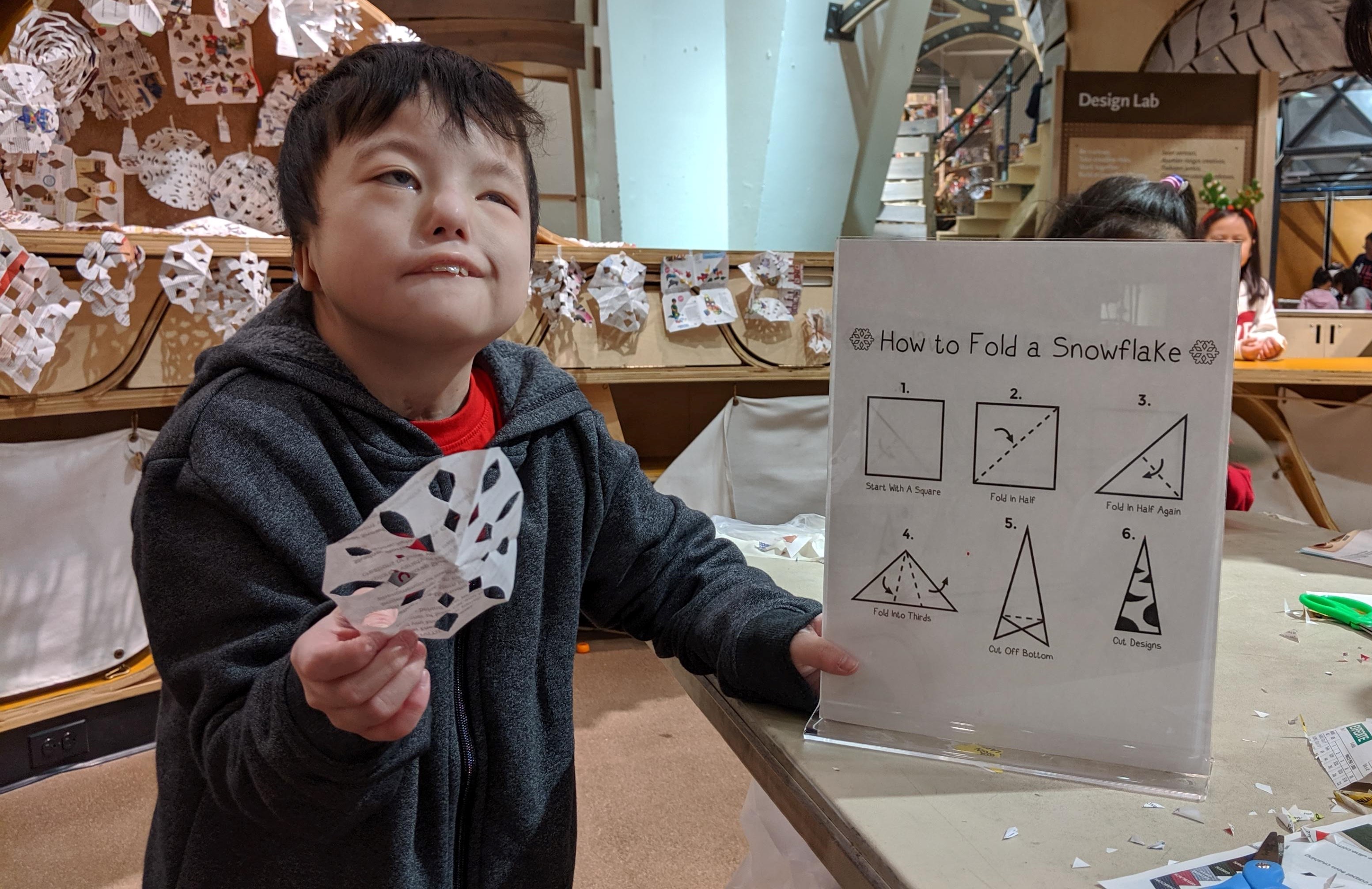 Parker
Parker, who has CHARGE syndrome is almost 12 years old and in the 6th grade. He has a sister, Piper (age 9), and brother, Pierson (age 5). Both love playing with Parker and introducing him to new activities. Things Parker loves include drawing and an after school dance class called "Dancing Dreams," that provides dance classes and performance opportunities to children with medical and physical challenges.
Parker has opened up his family to a richness and diversity that surpasses their culture, religion, beliefs, and values. He has exposed them to a beautiful world of possibility through adversity and a bittersweet journey of strength through unexpected challenges. They celebrate every day the way he shows them how to stop and enjoy the littlest of things.
There are many causes of deafblindness. Those that are present or occur around the time a child is born include prematurity, childbirth complications, and numerous congenital syndromes, many of which are quite rare. Deafblindness may also occur later in childhood or during adulthood due to causes such as meningitis, brain injury, or inherited conditions.
It is not uncommon for the same conditions that cause deafblindness to also lead to additional cognitive, physical, or other disabilities and health care needs.
Percentage of Children who have Additional Disabilities
| Additional Disabilities | % of Children  |
| --- | --- |
| Cognitive |  64 |
| Physical |  58 |
| Complex health care needs |  51 |
| Behavioral |    9 |
| Other |   19 |
| One or more additional disabilities |   87 |
Most Common Causes
The most common causes of deafblindness in children and youth in the U.S. are:
Complications of Prematurity
Hereditary Syndromes/Disorders 
Examples:
CHARGE Syndrome
Usher syndrome 
Down syndrome (Trisomy 21 syndrome)
Prenatal complications 
Examples:
Cytomegalovirus 
Hydrocephaly
Microcephaly
Postnatal complications 
Examples:
Asphyxia
Severe Head Injury
Meningitis
The type and severity of vision and hearing loss differ from person to person. The tables below show the percentages of children and youth with each of the types of vision and hearing loss reported in the 2019 National Deaf-Blind Child Count. 
| Type of Vision Loss | % of Children  |
| --- | --- |
| Totally blind or light perception only |  10 |
| Legally blind |  23 |
| Low vision |  33 |
| Functional vision loss |  23 |
| Progressive vision loss |    4 |
| Further testing needed |    7 |
28% have cortical vision impairment
| Type of Hearing Loss | % of Children  |
| --- | --- |
| Severe to profound loss |  31 |
| Moderate to moderately severe loss |  34 |
| Mild loss |  14 |
| Functional hearing loss |  12 |
| Progressive loss |    1 |
| Auditory neuropathy   |    6 |
| Further testing needed |    8 |
12% have cochlear implants
Because deafblindness significantly impacts a child or youth's ability to access information, communicate, and interact with other people, it has profound implications for educational services. The limited sensory channels available for learning necessitate developing a highly-individualized program for each child that addresses their interests and unique ways of learning. Sensory deficits can easily mislead even experienced educators into underestimating (or occasionally overestimating) intelligence and constructing inappropriate programs. Assessment is crucial every step of the way. (Miles, 2008)
Both the beginning and end of a child's education require special attention. It's important for children with deafblindness to be identified early in life when the brain is most sensitive to learning and begin receiving appropriate intervention as infants and toddlers. Once a child reaches age 14, it's time to begin careful planning and preparation for successful transition to employment, post-secondary education, and life in the community when they leave school. 
It is critical that families and educators have access to training and support regarding the assessment and education of infants, children, and youth who are deafblind. Each state has a federally-funded deafblind project that provides information and assistance.