2020 Virtual DB Summit for State Deaf-Blind Projects
The DB Summit for state deaf-blind projects is virtual this year and focuses on professional development. It runs from July 20 through January 20 and consists of 15 interactive sessions. Only one—Year 2 Outcome Reporting and OSEP Priorities on October 7—is required (for at least one director or coordinator from each project). The rest of the sessions are divided into three strands:
Child-Specific TA (state deaf-blind projects only)
Systems TA (state deaf-blind projects only)
NCDB Professional Development Series: Deaf-Blind Strategies (general audience) – See NCDB Professional Development Series: Deaf-Blind Strategies to share with families and service providers
You can attend as many sessions as you like, but we recommend that you choose at least one from each strand. The State Deaf-Blind Projects Basecamp Group will be the location for pre- and post-session materials related to the first two strands.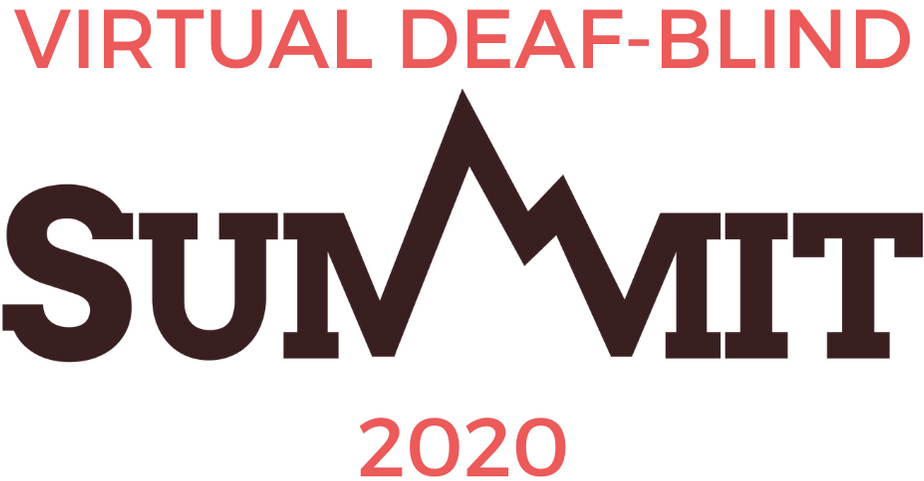 Project Directors' Conference
Don't forget that OSEP's Project Director Conference is also virtual this year. Required meetings for project directors/coordinators:
OSEP Remarks – July 20, 11-12:15 ET    
TA&D Program Meeting – July 21, 11-12:30 ET    
Outcomes and Reporting Webinar
October 7, 2020, 3:00-4:30 ET
Presenters: 
Susan Weigert, OSEP
Sam Morgan, NCDB
Julie Durando, NCDB
This webinar will provide a summary of OSEP findings from the Year 2 state deaf-blind project common measures APR data and implications for TA and project performance.
All sessions begin at 3 pm ET and last 90 minutes.
A more detailed description of each session will be coming soon. 
All full sessions will be captioned. During small group breakouts, however, only one room will be captioned. If you require captioning during breakouts, please let us know so we can make sure to route you to the correct room.
Child-Specific TA Strand
For State Deaf-Blind Projects
Includes Breakout Discussions
Increasing Cultural Competence
July 20
Distance TA for Teams and Families
July 21
Engaging Families: Introduction to Providing TA to Families Guide
July 22
Coaching Parents Using Distance TA
August 5
Virtual Supervision for Interveners
December 2
Systems TA Strand
For State Deaf-Blind Projects
Includes Breakout Discussions
State Efforts to Improve Transition Outcomes for Students who are Deaf-Blind with Additional Disabilities
August 19
Systemic Planning for Part C and Part B Professional Development
September 2
Increasing Identification
January 20
Deaf-Blind Strategies Strand
General Audience
Establishing Routines at Home
July 29
Meeting the Needs of Proficient Communicators
September 16
Alternate Academic Standards
October 21
Accessing Grade Level General Education Curriculum
November 4
Early Literacy and Numeracy
November 18
IEP Development
December 16
Sessions Organized by Date
July 20, 2020, 3 pm ET [Child-Specific TA Strand]
Increasing Cultural Competence 
July 21, 2020, 3 pm ET [Child-Specific TA Strand]
Distance TA for Teams and Families
July 22, 2020, 3 pm ET [Child-Specific TA Strand]
Engaging Families: Introduction to Providing TA to Families Guide 
July 29, 2020, 3 pm ET [Deaf-Blind Strategies Strand]
Establishing Routines at Home 
August 5, 2020, 3 pm ET [Child-Specific TA Strand]
Coaching Parents Using Distance TA 
August 19, 2020, 3 pm ET [Systems TA Strand]
State Efforts to Improve Transition Outcomes for Students who are Deaf-Blind with Additional Disabilities 
September 2, 2020, 3 pm ET [Systems TA Strand]
Systemic Planning for Part C and Part B Professional Development
September 16, 2020, 3 pm ET [Deaf-Blind Strategies Strand]
Meeting the Needs of Proficient Communicators
October 7, 2020, 12 pm ET 
Outcomes and Reporting Webinar
October 21, 2020, 3 pm ET [Deaf-Blind Strategies Strand]
Alternate Academic Standards
November 4, 2020, 3 pm ET [Deaf-Blind Strategies Strand]
Accessing Grade Level General Education Curriculum
November 18, 2020, 3 pm ET [Deaf-Blind Strategies Strand]
Early Literacy and Numeracy
December 2, 2020, 3 pm ET [Child-Specific TA Strand]
Virtual Supervision for Interveners
December 16, 2020, 3 pm ET [Deaf-Blind Strategies Strand]
IEP Development
January 20, 2021, 3 pm ET [Systems TA Strand]
Increasing Identification