Posted
Sep 20, 2017
|
Archived Webinar
2017 National Webinar: A Parent's Story
Recorded September 20, 2017
---
There were two presentations of this webinar, one in English and one in Spanish. 
Description:
Every family has an important story. In this presentation, Myrna Medina, Family Engagement Specialist at California Deafblind Services and mother to a son, Norman, with deaf-blindness, told her family's story, including:
Their experiences as they encountered situations common to all families of children with special needs
Their interactions with service systems (early intervention, school, transition) at different stages of Norman's life
Grief and other emotions they experienced and how they were able to cope and move forward
Objectives:
Families will learn that their stories are important and their feelings matter.
Families will learn strategies for coping with the many changes and transitions that occur during their children's lives.
Professionals will learn that it is essential to remember that behind the day-to-day details of schools and services every family has a personal story.
Professionals will learn strategies for supporting families.
Recording and Transcript
Recorded Webinar
Transcript 
Presenter Information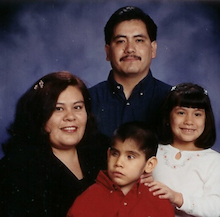 Myrna Medina, Family Engagement Specialist
California Deafblind Services