Teachers who have expertise working with children who are deaf-blind are essential members of early intervention and educational teams.
In many states they are teachers of students who are deaf/hard of hearing, are visually impaired, or have severe/multiple disabilities. Most have had additional training or professional development in deaf-blindness. A few states have, or are working towards, a specific certification for teachers of students who are deaf-blind.
On this page you will learn about some amazing teachers—how they became interested in deaf-blindness, the type of training they've had, and their thoughts about and hopes for deaf-blind education. Some work in classrooms or early intervention settings. Others are itinerant teachers who provide support to numerous teams.
Published January 2021
Helen McDowell, a teacher of the deaf and hard of hearing, works for the Arizona State Schools for the Deaf and the Blind Early Learning Program. Helen first learned about deafblindness in 1986 during her graduate program at San Diego State University and became more involved in 1995 when she had a new student with deafblindness who had intensive support needs. At that time, she contacted the Arizona DeafBlind Project for assistance. She attended a summer workshop and in-depth training events offered by the project, and eventually became a regional consulting teacher for students with deaf-blindness. 
Helen currently works with a 9-month-old who has profound bilateral hearing loss and congenital corneal opacities. He is a twin who was born prematurely with multiple health needs. Early intervention services just started recently due to an extended stay in the NICU. Helen works in conjunction with an Arizona Early Intervention Program team that includes a vision specialist, occupational therapist, and physical therapist. 
When asked about her hopes for the future regarding educational services for children and youth who are deafblind, Helen said that she would like to see the provision of interveners be a standard consideration instead of a matter of contention with education agencies.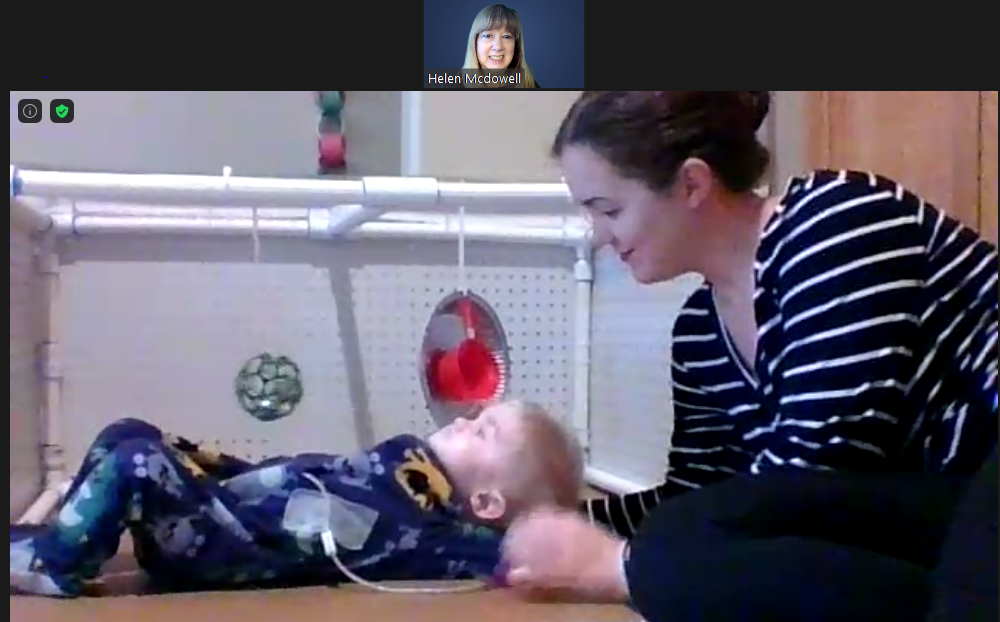 Every child with deafblindness is a unique individual who deserves access to their environment. Observe, observe, observe to learn their strengths and areas of need, building trust through gentle, inviting interaction. And remember the mantra "do with, not for."
Published January 2021
Julia Bowman is a teacher of the visually impaired with an early intervention credential. She first became interested in working with children with deafblindness when she was part of a parent group for caregivers of babies with visual impairments. One of the infants in the group was deafblind, and Julia and the baby's mom became fast friends. Today she works for the Illinois School for the Visually Impaired as a birth to three educator, developmental therapist for vision, and teacher.
Julia's training in deafblind education involved completing NCDB's Open Hands, Open Access: Deaf-Blind Intervener Learning Modules, as well as online courses on using active learning techniques. She is currently working with a one-year-old who has hearing loss and visual impairment. Because the child's vision issues resemble cortical visual impairment (CVI), Julia decided to use visual support strategies and active learning to encourage the child's curiosity and interest in reaching for objects—for example, by using stay-put learning environments, and color to highlight particular objects. Julia says the child has responded very well to these strategies and that "she now explores objects independently and is becoming mobile."
Julia emphasizes collaboration when working with a child who is deaf-blind. Her advice for new teachers is to focus on teamwork and "talk to your colleagues!" For example, she always connects with the hearing specialist on the educational team and tries to co-treat as often as possible. Likewise, she consults with her colleagues at Project Reach: Illinois Deafblind Services whenever she has a student with deafblindness on her caseload.
Educational strategies for students with deafblindness benefit students with many different disabilities. I wish that more special education teachers were aware of them.
Published February 2021
Emily Britz began her career as a teacher of the visually impaired at a life skills program, working with numerous students with deafblindness. There, she partnered with an intervener and teacher of the deaf to create tactile communication systems, picture systems, anticipation charts, and routines for her students. The experience inspired her to receive certification as an intervener from Utah State University's Deafblind Intervener Training program.
"The intervener training was amazing!" she says. "In college I didn't get a lot of information on deaf-blindness because the population is so small, but when I got started working in special education, I had quite a few children with deaf-blindness on my caseload." She says the intervener training gave her a much better understanding of how dual sensory loss impacts learning.
Today, Emily works at the Belleville Area Special Education Services Cooperative, which serves 23 member school districts in Illinois. She emphasizes the importance of creating routines for her students with deaf-blindness. "We build routines for everything, and it is amazing to see how kids that are non-verbal are learning, anticipating, and communicating."
In the future, Emily hopes there will be more opportunities for training in and awareness of deafblindness, especially for interveners. "The word 'intervener' can be intimidating for some, especially during the IEP process," she explains. "It would be nice to see more interveners available for students who can benefit from their services."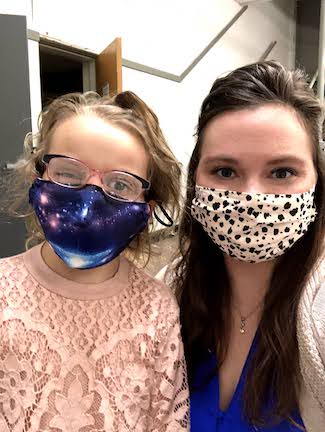 Working with a variety of kids who are deafblind has been a pure joy in my life. I love how it challenges me to think outside the box. There's nothing better than when I am able to witness them accomplish a goal!
Published February 2021
Sara Edwards witnessed first-hand the impact early intervention can have on a child with a sensory impairment by seeing how much a developmental therapist for vision (DT/V) supported her own children's learning. Both were born visually impaired. The DT/V's work inspired Sara to become a teacher of the visually impaired, a DT/V, and work in early intervention. Today, she is an educator at Illinois School for the Visually Impaired, where her caseload includes children with differing levels of vision loss, some with additional disabilities, including students who are deaf-blind.
"After working with my first child who was deaf-blind," says Sara, "I quickly realized the lack of information and training I had, and I lacked resources to share with the families. I really had to do my research." Sara explains that most of what she now knows about deaf-blindness has come from hands-on classroom experience, the Open Hands, Open Access: Deaf-Blind Intervener Learning Modules, and from multiple training programs and conferences. She also frequently connects with colleagues at Project Reach, the Illinois state deaf-blind project, for resources and information.
Sara currently works with two students who are deaf-blind, often co-treating with a developmental therapist for hearing in early intervention. "I enjoy incorporating activities that promote the use of all functioning senses so that they can learn, play, and explore their environments independently," she says.
Every child is unique! Take the time to observe the child and learn what they like and don't like. Take that information to create individualized lessons that will keep the child engaged in a variety of activities. We want our students to be active learners!
Published January 2021
Susan Hamlink began her path to working with students who are deaf-blind after tutoring Deaf students as a teenager. She began her career as an itinerant teacher of students who are Deaf and hard of hearing (TODHH) and went on to receive a master's in rehabilitation counseling. Her introduction to deaf-blindness was when she briefly worked as a case manager for individuals with deaf-blindness.
Today she is in her eleventh year of teaching at Philip J. Rock Center and School, a residential school for students with deaf-blindness, and is licensed as a TODHH, a learning behavioral specialist I, a learning behavioral specialist II (transition specialist), and in elementary education. She credits NCDB's Open Hands, Open Access: Deaf-Blind Intervener Learning Modules, her state's deaf-blind project (Project Reach), and haptic training for increasing her knowledge and skills for working with students who are deaf-blind. 
Susan currently works with four students with deaf-blindness who have vastly different abilities and needs. For example, one is totally blind and uses a hearing aid; another has no hearing and limited useful vision. Their different needs greatly influence how they learn and access information. "For example," she says, "when I read a story, I show pictures to one and to the other I use objects." Although this process can make instruction more challenging, she explains, "I know that the way I present information impacts how much my students are able to access."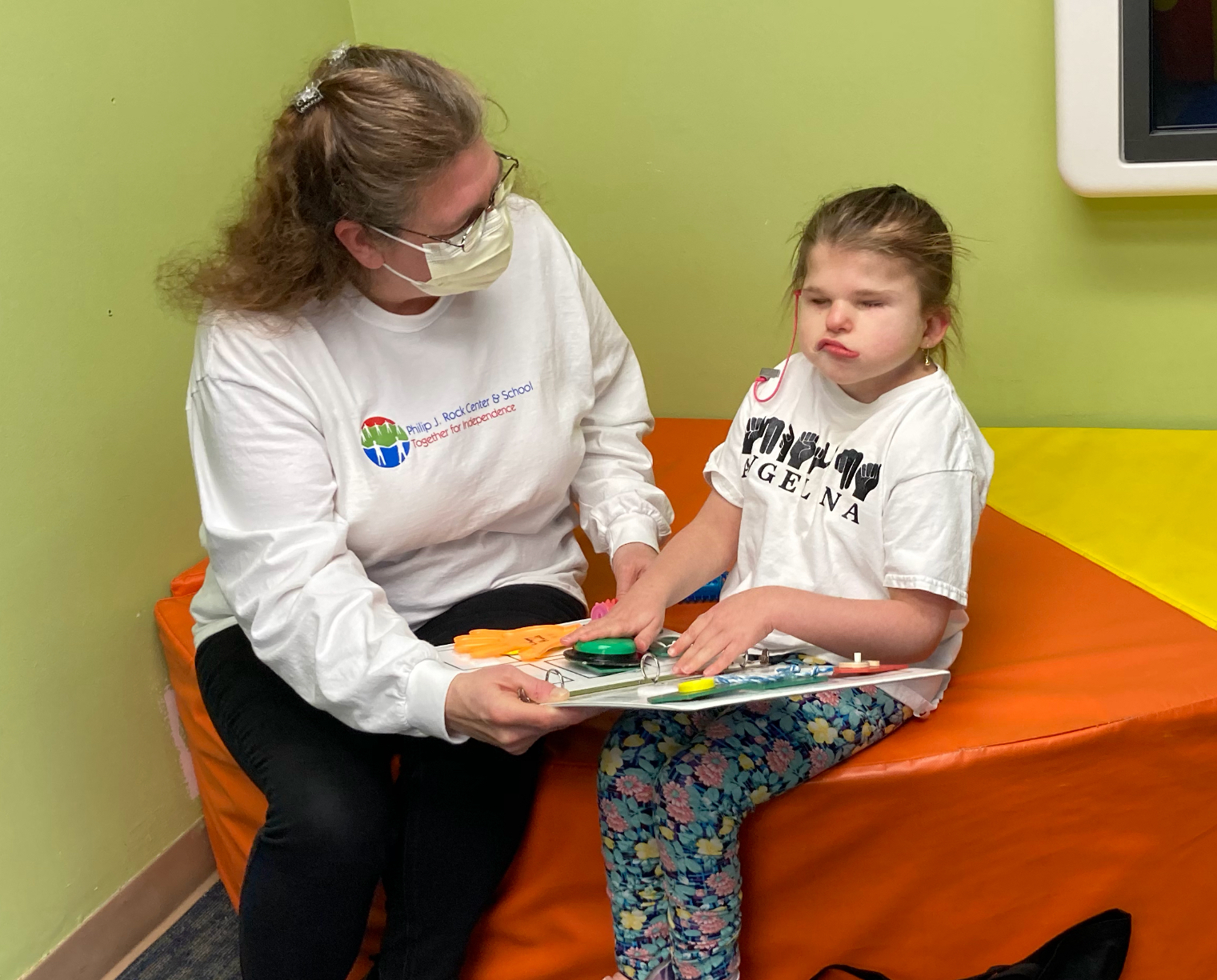 Every child with deaf-blindness is so different. Just because you have experience, it doesn't mean that you are not always learning new things. Students all learn at different rates. Have patience.
Published January 2021
One of the things Morgan Hendon loves most about her job is that "students push me each week to become creative in planning lessons to meet their needs." As a teacher for students with visual impairments and a certified orientation and mobility specialist, Morgan currently works with three students who have deaf-blindness at Park School in Evanston, a therapeutic public day school. Each student has different communication, sensory, and accommodation/modification needs. 
Morgan has received training and support from her state's deaf-blind project (Project Reach) and takes classes from the University of South Dakota on deaf-blindness. Likewise, while at Park School, she learned basic sign language, a skill she strongly advises for teachers who work with students who are deaf-blind. Morgan also recommends that teachers lean on their colleagues for support. "It's imperative for us to be flexible and help each other recognize what is working and what isn't," she explains. "It's okay for things not to go as planned as this is what pushes us as teachers!"
She says she is "continually amazed at how smart and hard working my students with deaf-blindness are and how dedicated their parents are to ensuring they reach their education and life goals." She hopes in the future there will be greater awareness of the many educational services and supports available to this important population of students.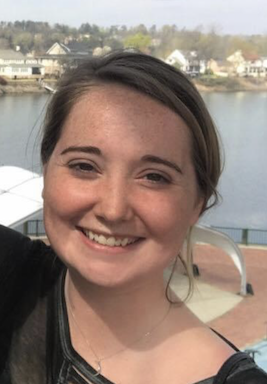 Teachers working with students with deaf-blindness should invest in professional development centered on deaf-blindness. When I first began teaching, I had only read about students with deaf-blindness. It is a very different situation when you are creating and implementing an educational program.
Published February 2021
After receiving certification as a Teacher of the Deaf and Hard of Hearing (TODHH), Rebecca Peary was often placed in classrooms with DHH students who had additional needs, such as vision loss. "I love working with these unique students," she says, "and the challenges and successes they present."
To learn more about deaf-blindness, Rebecca has engaged in self-study and attended professional development courses, including some offered by Project Reach: Illinois Deafblind Services. She also emphasizes the importance of on-the-job and hands-on personal experiences with students and their families.
As a DHH teacher at Hinsdale South High School, Rebecca currently teaches three students who are deaf and have significant vision needs. They all use sign language as their main mode of communication along with picture supports. "Because their communication needs are greatly visual," she explains, "it is imperative that their communication partners sign within each student's 'box of vision,' and use simple, enlarged pictures. It's also important that they practice patience."
Rebecca says that over the years, she has seen excellent gains in accessibility for DHH students and students with deaf-blindness, but there are still challenges and lots of room for improvement. In particular, she hopes that accessibility will become natural in all environments, both inside and outside of the classroom.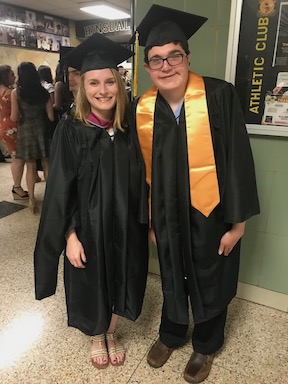 When working with a student who has deaf-blindness, it's important to think outside the box and try to look at the world from the student's perspective.
Pam Young had been working with children with disabilities at Nevada Early Intervention Services (NEIS) when she attended the 2009 Western Regional Early Intervention Conference. That, she says, was the beginning of true love. "I found my home with children who have sensory disabilities, including deaf-blindness, and have never looked back."
She took advantage of a host of training opportunities to learn more about deaf-blindness, including a course on understanding deaf-blindness from the SKI-HI Institute through the Nevada deaf-blind project and training as a parent coach for children who are deaf/ hard-of-hearing. She received a teacher of the visually impaired endorsement from Portland State University and a CVI endorsement from Perkins School for the Blind.
Pam is now a developmental specialist and teacher of students with visual impairments at NEIS. She currently has two students with deaf-blindness: a medically-fragile child who has limited motion and use of the hands and another who has multiple challenging disabilities but is more mobile. The first responds well to soft voices and likes being held while the second is highly verbal and a bit headstrong. Not surprisingly, Pam works hard to make modifications in the learning environment to take advantage of each child's unique challenges and abilities.
"I think the biggest thing I have learned about working with children who are deaf-blind is to see them as children first," she explains. "Just like all children, they learn best through play." One of her favorite things to do is to make or adapt toys, such as PVC pipe toy hangers, that allow a child to play independently.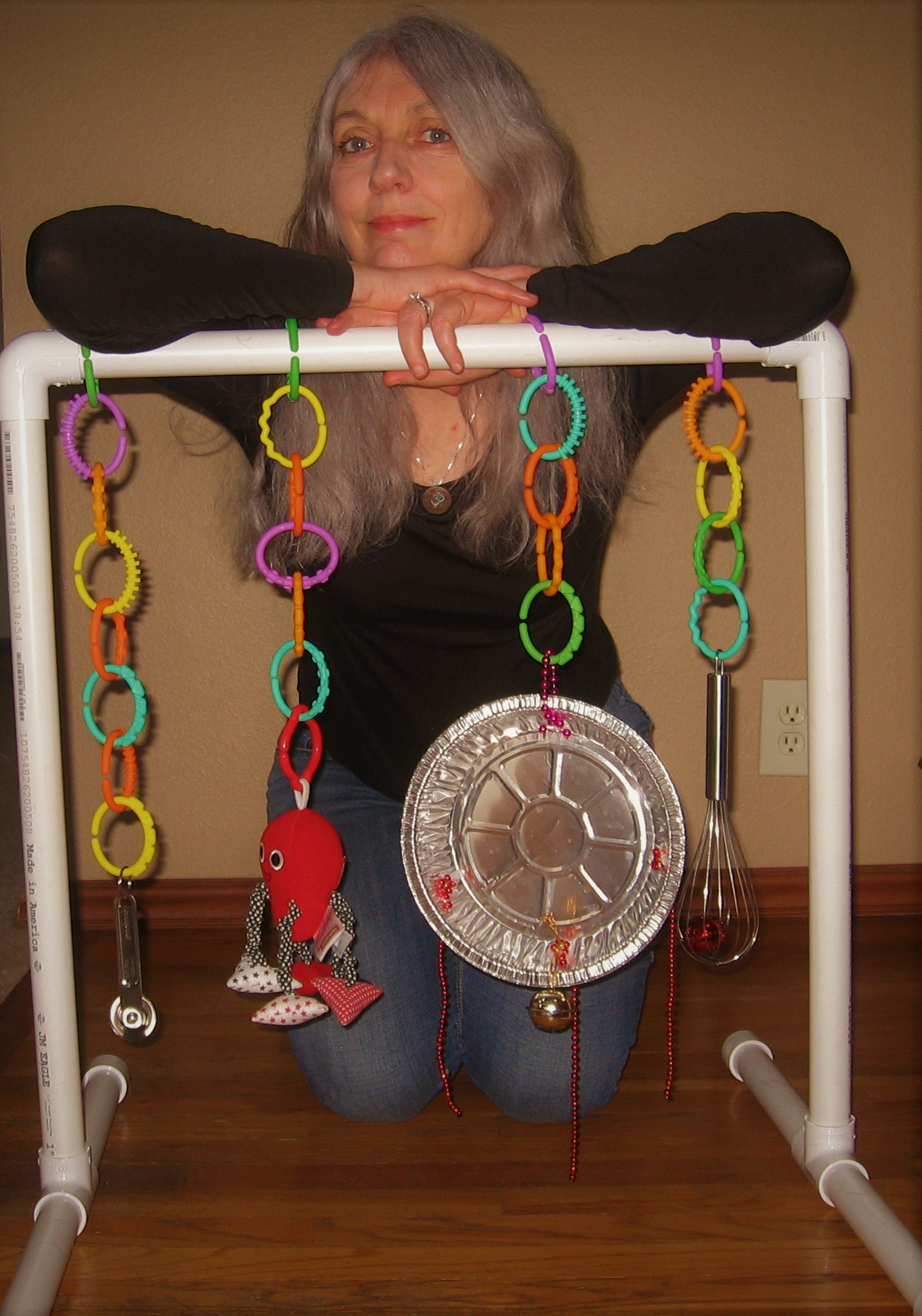 My hope is for broader educational opportunities for children who are deaf-blind, including increased training in deaf-blindness for teachers and additional funding for services and equipment for this special population.
Published January 2021
Sarah Keyes, an itinerant teacher of the deaf in New York, became interested in deaf-blindness after having a number of children on her caseload who were deaf-blind. She has received training in deaf-blindness from the New York Deaf-Blind Collaborative (New York's state deaf-blind project) and credits staff there with teaching her how to build trust with students and help them develop communication skills. 
One of Sarah's current students is a 12-year-old girl she has worked with since age 3. The student has cortical visual impairment and wears bilateral cochlear implants. She also has developmental delays and extensive medical concerns. Sarah says that to watch this student grow as a person and communicator has been amazing. "To see how strong and resilient she is," says Sarah, "and how no matter what is happening she tries to communicate with us, has made such an impact on me as a teacher. As she grows and changes, so does her program to fit her communication style and personal needs."
Her advice to other teachers about working with children who are deaf-blind is to work as a team, have open discussions, be patient, see things from the student's perspective, and respect each one as a unique individual. These are the keys to success when working with students who are deaf-blind.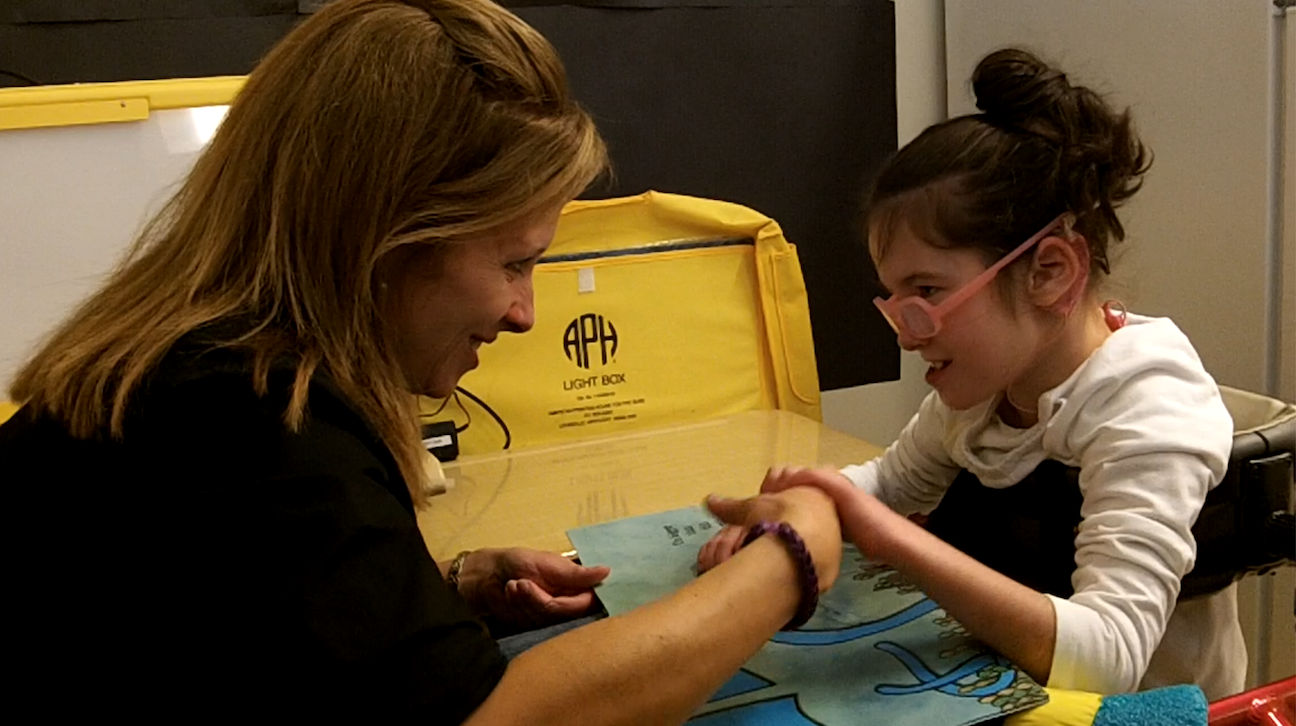 Opening the world for our students requires staff and families to be open minded about how to help them learn about the world in their own way. My most important training comes from my students—they let me know what works and what does not.