Utah Teachers of the Deaf-Blind
NCDB is excited to feature teachers of the deaf-blind (TDBs) and other teachers with specialized expertise in deaf-blindness in Utah, the first state in the nation to have certified TDBs.
In these profiles, they share their experiences and raise awareness of the importance of specialized training in deaf-blindness and certified TDBs. We plan to feature two teachers every month, so check back soon.
For more information about Utah's deaf-blind programs, visit
Published July 2022
Brooke Barnhill is a teacher of the deaf-blind and a transition specialist for the Utah Deaf-Blind Project and Utah Schools for the Deaf and the Blind. She loves the work, which allows her to use her passion for working with children who have significant support needs, their families, and educational teams. But what she looks forward to most, she says, "is when I can work directly with the students who are deaf-blind and join their world for a little while."
Brooke earned a master's in Special Education from Boston College and did her student teaching at Perkins School for the Blind in their Deafblind Program. Although she has endorsements in multiple disabilities, deafness/hard of hearing, and vision loss, she recently completed a Master of Philosophy in Special Education from the University of Utah, with an endorsement in deaf-blindness. Brooke says that this was a significant event in her career. "It's been fulfilling to finally receive an endorsement in my specialty and to be called and recognized as a Teacher of the Deaf-Blind."
This school year, she began working with a young woman who is deaf-blind and has significant support needs. Brooke collaborates with her classroom teacher, intervener, and teacher of the visually impaired to establish a trusting relationship, discover motivating activities, and reduce self-harming behaviors. "We worked to come up with a schedule that focused on motivating activities and consistent responses to her communication," she explains. 
The team's hard work is already seeing positive results: "The student has blossomed this year!" Brooke says. "Her self-harm behaviors have significantly reduced, she has moved up a level on the Communication Matrix, and the team has raised their expectations for her life after high school." 
Brooke urges educators to increase their awareness of deaf-blindness and learn the best practices for working with those who are deaf-blind. She says, "These efforts lead to improved access to the learning environment and improve students' anticipation and participation in their learning."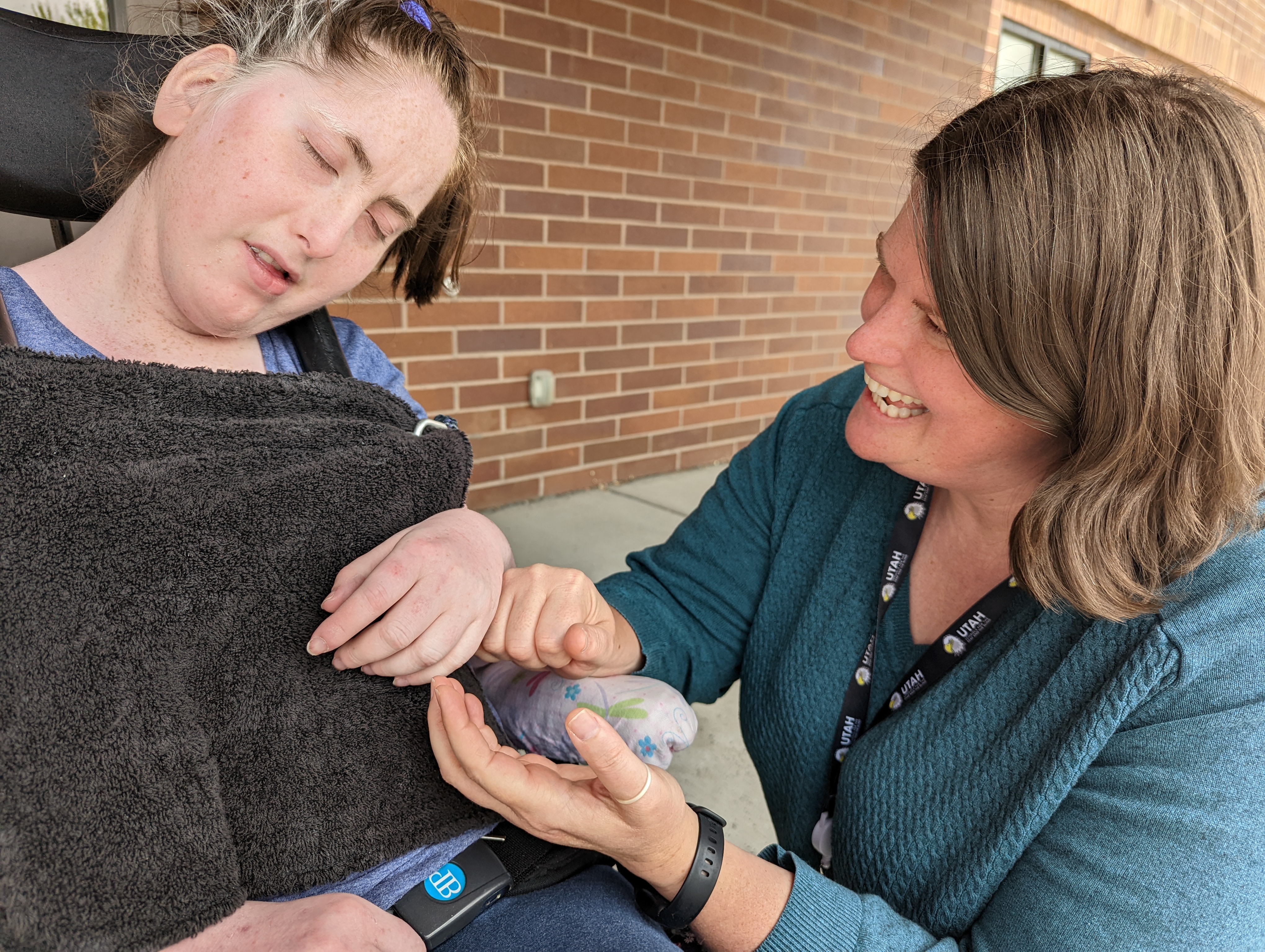 Be curious. Working with individuals who are deaf-blind, you have an amazing opportunity to learn alongside them and to experience the world in a whole new way.
Lara Leigh Whitney's work in deaf-blindness began with a keen interest at a young age in ASL. She became an ASL interpreter and accepted a position with the Utah Schools for the Deaf and the Blind (USDB) as an intervener, working with a student who was deaf-blind and used ASL. 
Lara Leigh says that experience started her on a path to becoming a teacher of the deaf-blind. She pursued a bachelor's in special education, with an emphasis on severe disabilities, and then a master's in special education, with a deaf-blind endorsement. She says it was a great honor to be in one of the first cohorts in the field to receive a deaf-blind endorsement.
Following her college years and a teaching position in Alaska, Lara Leigh returned home to USDB–and she's been with them ever since as a teacher of the deaf-blind. In particular, she says she loves the challenges of communicating in students' preferred languages as well as "working with students who have some troubling behaviors." 
She says one of her most memorable experiences involved working with a student who participated in the DeafBlind Immersion Experience at the Helen Keller National Center. "We traveled to New York, where he explored employment opportunities, learned about independent living practices, and experienced using public transportation," she explains. "The student learned so many great lessons about life after school." 
Over the years, Lara Leigh has expanded her knowledge of deaf-blindness by learning Braille and by participating in multiple deaf-blind conferences and professional development programs offered by NCDB, the Western Region Early Intervention Conference, and the Texas School for the Blind and Visually Impaired.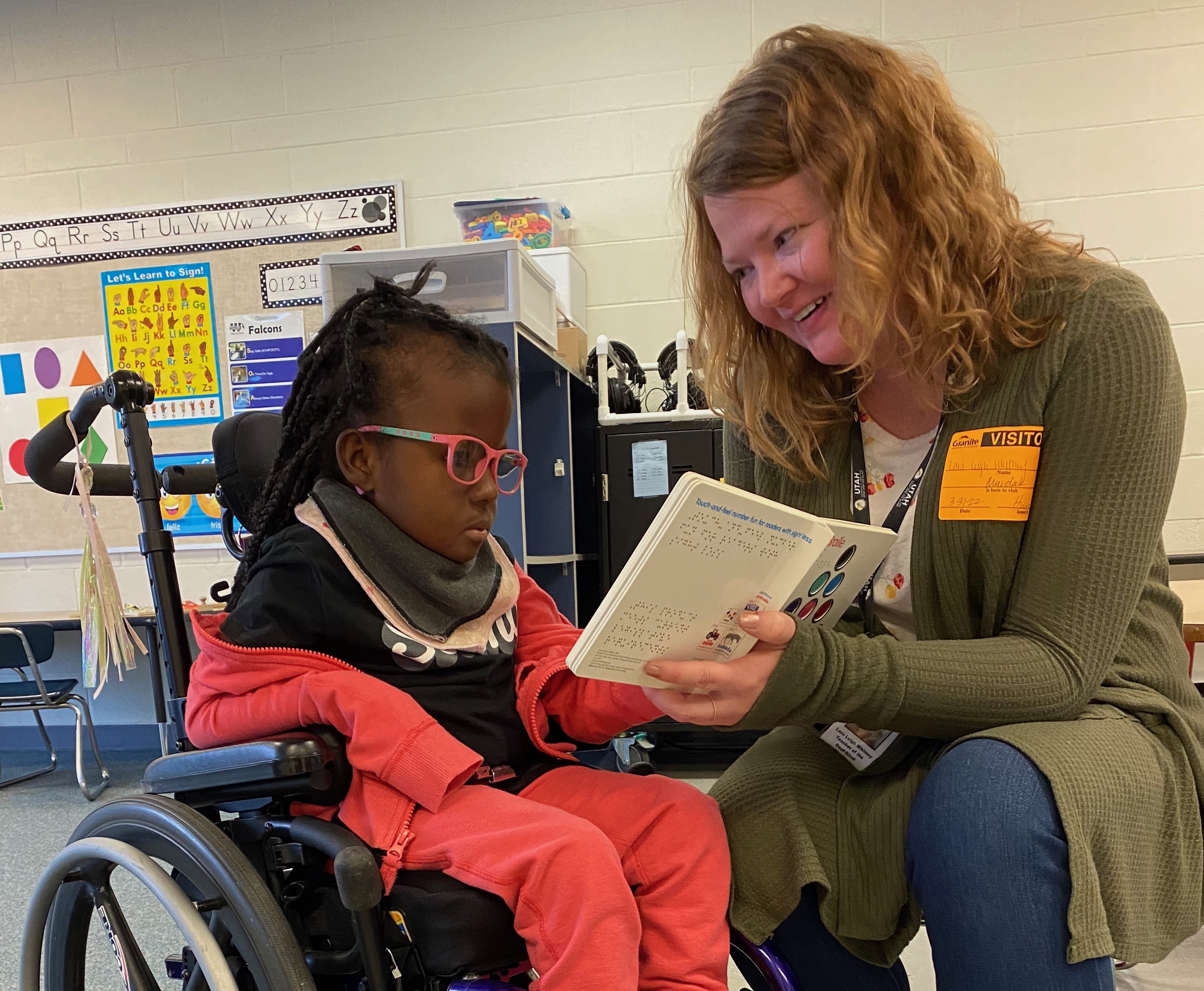 You are always learning and growing as a teacher, with good days and harder days. It's important to allow the good days to bring you joy and inspiration to keep going. Cherish the milestones your students achieve.