Meet Soliz and Camila Magdelano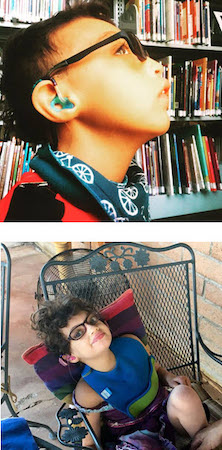 This families matter story profiles the Magdelano family: Soliz (age eight); Camila (age seven); their parents, Heather Joy and André; and their dog, Sammy. Soliz and Camila have combined vision and hearing loss due to Wolf-Hirschhorn syndrome.
In the summer of 2015, the family took a road trip from their home in Arizona to California, where they went camping with extended family, including their Grandma Joleen and Aunt Amy. Join them in their adventure as they are immersed in sensory experiences and new environments, and find out how they communicate, learn, get around, and adjust to a variety of situations. In the box below each video are resources where you can learn more about some of the topics covered.
Give us feedback on this story.